You. Avaliable on every smart phone.
Anywhere in the world. 24/7.
With appflight's all-in-one mobile solution you can sit back and continue what you do best. We'll take care of all the mobile stuff.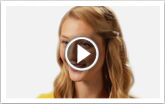 The New App Landscape, It's not just Apple
Your app is always improving.
New phone features, new devices, new operating sysetms? We've got you covered. We're always improving your app to make sure it stays up to date and on the cutting edge. Our main goal is to make sure that your app is more engaging to your users and easier to manage for you.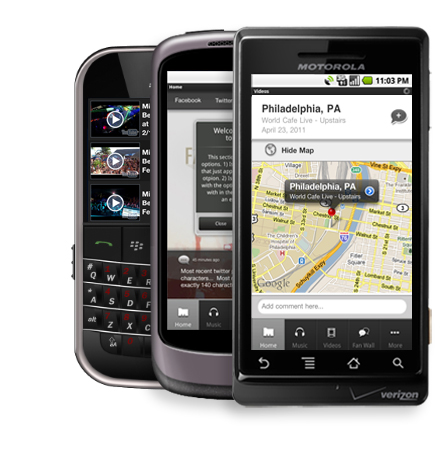 2.2 Platform Update
The free 2.2 Platform Update brings an incredibly feature rich app. We've incorporated several core features and functions that are designed to create a more engaging mobile experience.
Updating is easy. You'll be notified of a new release. When the it's out of testing and we'll submit it on your behalf.
Best of all... we're not done. Several platform updates are already scheduled for 2012.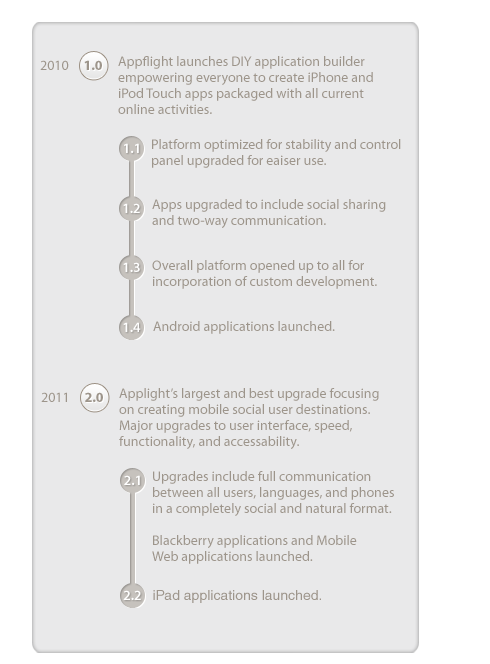 4x Faster.

Time is money time is money... for you and for your users. We've updated the frame work to make sure they don't have to wait. The new update (2.0) is 4-5x faster than our previous versions.

Works all over the world.

Speak everyones language. We've upgraded to allow your app to be used in the native language of your user. You're welcome. Prego. Zijian. Aragato. De Nada.

Accessible by everyone.

An app only running on Apple? That's so 2010. We've upgraded to let your app fly on all smart phones with Android Apps, Blackberry Apps, and a Mobile Web App.

No connection. No problem.

Appflight apps work with a connection or without. We can control a lot of things but the amount of service or Wifi access is not one of them... so we let you access core features while you don't have a service or internet connect.

User generated content.

You're app is not a destination... it's an interactive mobile social network. Users have more options than ever to interact and engage with you - and - other users.

Sleek new look.

Style is everything. The packaging of your app utilizes the features of each type of device. Giving your fans a sleek and stylish interface.