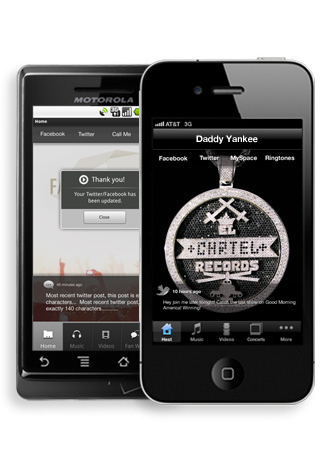 Grab Users Instantly.
Your homescreen is the first things users see when they open your app, we've made sure blend togeth the perfect amount of phone function and design that will make sure they have a good impression.
Users will be able to "tap" and "swipe" as soon as they enter.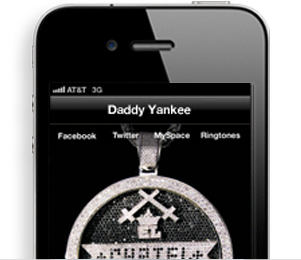 One tap simplicity.
Reach users immediately with up to 4 quick links located at the top of your home screen. You can direct users to an array of features, such as a direct call, or links, like your Facebook fan page (websites are loaded directly in the app).
Cool tip: One "tap" on the homescreen and your quick links will hide. Another "tap" and they automatically appear.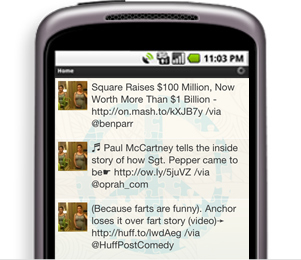 Twitter. Instantly.
If you incorporate your twitter account, we'll make sure that your latest tweet is displayed. Users can jump directly into your twitter section from this link.
Just like the quick links, users can "tap" once to view (or hide) your latest tweet.
Learn more about full twitter integration.
Personalize with Multiple Backgrounds.
You'll be able to upload up to 3 background images that users will be able to "swipe" through.